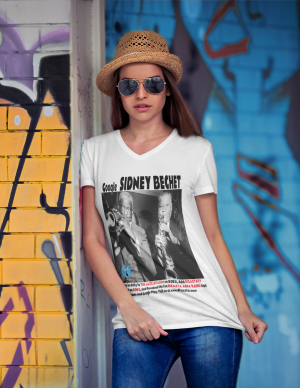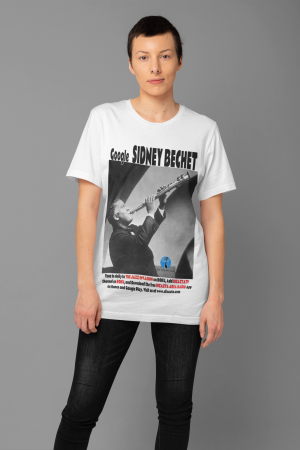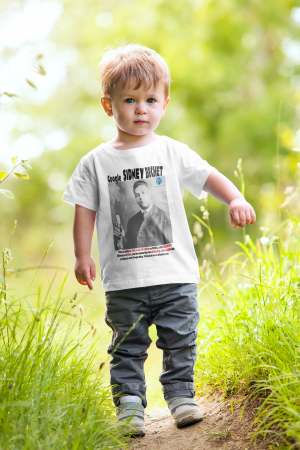 Sidney Bechet
Sidney Joseph Bechet (May 14, 1897 – May 14, 1959)
Sidney Bechet 005

Sidney Bechet 002

Sidney Bechet 001

Sidney Bechet 003

Sidney Bechet 004

Experience the soulful melodies and unparalleled artistry of the jazz legend Sidney Bechet with the Sidney Bechet Collection:
Unleash the Essence of Jazz!
Envision yourself wearing a shirt that not only showcases a design of your choice but also plays a personalized video right on your chest. Immerse yourself in the genius of Sidney Bechet, the masterful saxophonist, clarinetist, and composer, with the revolutionary technology embedded within each garment by Merchandise By Dizazta.
Sidney Bechet's music spoke to the heart and soul, leaving an indelible mark on the jazz world. His virtuosic improvisations, emotive performances, and distinctive sound continue to resonate with audiences today. He was a pioneer of jazz, pushing the boundaries of the genre and inspiring generations of musicians.
Be among the first to own a custom video embedded T-shirt from the Sidney Bechet Collection. Carry the spirit of this legendary musician and share his extraordinary talent with the world. With Dizazta TV on Roku, you can witness live footage of Sidney Bechet, transporting yourself to the vibrant jazz clubs and stages where he brought his music to life.

Discover merchandisebydizazta.com, your gateway to a treasure trove of T-shirts featuring thousands of different designs. For a limited time only, this exclusive offer allows you to own a piece of history while enjoying a five-day free trial for Dizazta TV on Roku, where you can experience the magic of Sidney Bechet firsthand.

To further enhance your musical journey, be sure to download the free Dizazta Area Radio app, available on iTunes and Google Play. Immerse yourself in the rich tapestry of jazz and embrace the legacy of Sidney Bechet.
Join us in revolutionizing the world of video T-shirts. Let Sidney Bechet's timeless music and mesmerizing performances elevate your style and transport you to the heart of jazz.