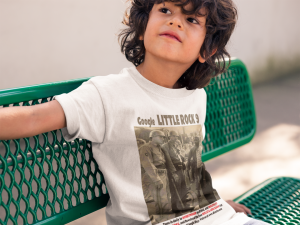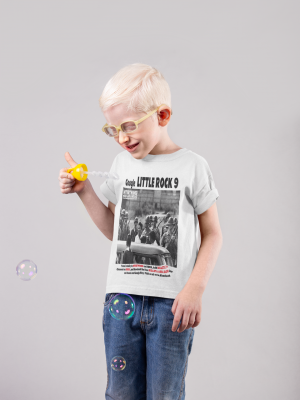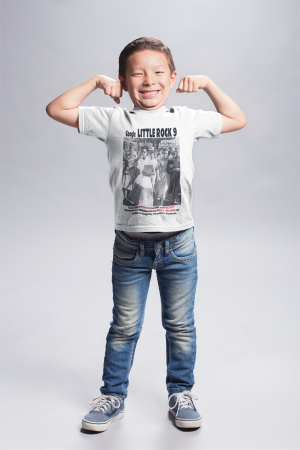 Little Rock Nine



The Little Rock Nine was a group of nine African American students enrolled in Little Rock Central High School in 1957.
The Little Rock 9 Collection:
A Testament to Bravery, Worn with Honor

Prepare to be moved. Introducing the Little Rock 9 Collection—an extraordinary blend of fashion and emotion, infused with revolutionary embedded video technology by Merchandise By Dizazta. This isn't just a shirt; it's a powerful storytelling medium that showcases your chosen design while playing a personalized video right on your chest—an experience that will touch your soul and ignite change.
The Little Rock 9, a group of courageous African American students, faced unimaginable adversity as they fought for their right to receive an education alongside their white peers. Their indomitable spirit and unwavering resolve shook the foundations of segregation, shaping the course of history and inspiring generations to come.
With Dizazta TV on Roku, you can witness the live footage that captures the essence of the Little Rock 9's heroic journey. Feel the weight of their footsteps as they walked through a storm of hatred, hear the echoes of their voices calling for justice, and see the strength in their united front. This collection allows you to connect with their struggle on a deeply emotional level, preserving their legacy and empowering you to stand up against injustice.

Visit merchandisebydizazta.com, your ultimate destination for T-shirts that speak volumes. Explore thousands of designs, each one telling a unique story. And for a limited time, our exclusive offer grants you a five-day free trial for Dizazta TV on Roku—a gateway to the powerful live footage of the Little Rock 9 and countless other inspiring stories of resilience.

To stay connected and inspired, download the free Dizazta Area Radio app from iTunes and Google Play. Immerse yourself in the empowering voices of the Little Rock 9, their courage reverberating through your veins as you proudly wear their image and message. Spark conversations, challenge prejudice, and embody the spirit of change.
The Dizazta Empire is revolutionizing the game, merging technology and fashion to create a profound connection to history. Be one of the first to own a custom video embedded T-shirt—a symbol of your deep admiration for the Little Rock 9 and your unwavering commitment to equality.
The Little Rock 9 Collection is more than just clothing—it's a testament to bravery, an homage to those who faced injustice head-on. Order your custom video embedded T-shirt today and let your heart be moved by the legacy of the Little Rock 9. Together, we can honor their sacrifice, celebrate their triumph, and ensure that their spirit endures, lighting the way for a future where equality prevails.